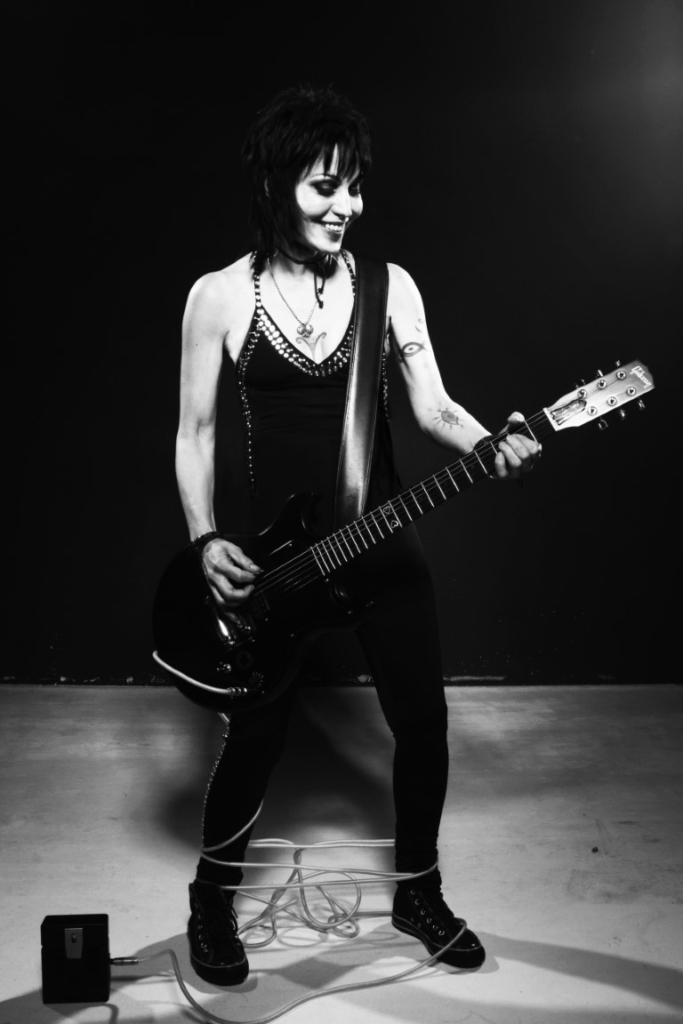 The 2023 Headliner was Joan Jett and the Blackhearts!
Rock and Roll Hall of Famer Joan Jett is an American singer, guitarist, record producer, and actress. Jett is best known for her work as the frontwoman of her band Joan Jett and the Blackhearts, and for earlier founding and performing with the Runaways, which recorded and released the hit song "Cherry Bomb".
With The Blackhearts, Jett is known for her rendition of the song "I Love Rock 'n Roll" which was number-one on the Billboard Hot 100 for seven weeks in 1982. Jett's other notable songs include "Bad Reputation", "Light of Day", "I Hate Myself for Loving You" and her covers of "Crimson and Clover", "Do You Wanna Touch Me (Oh Yeah)" and "Dirty Deeds". foundation. For over 7 years running he has served as Music Director for the Rainforest Foundation Concert at Carnegie Hall, the high profile conversancy benefit spearheaded by Sting and Trudie Styler that has featured the likes of Elton John, Billy Joel, Ravi Shankar, James Taylor, Brian Wilson, Bruce Springsteen, Lada Gaga, Bruno Mars and, of course, Sting himself.
Rock the CASA was a blast—a wonderful evening for a great cause. I was delighted to headline Dan's event in 2015 and so happy to have helped raise money and awareness for a lot of kids who really need our help. We had an amazing show with people who love music, but love to help children even more!
Our experience with Dan Ashley and the Rock the CASA crew was first class from beginning to end. As the top rated news anchor in the Bay Area, Dan is in a perfect position to promote the event, and our band as well. He gets in the trenches and puts a personal touch on the whole event. Lending a helping hand to at risk young people is a cause which we are proud to support, and Dan made the entire experience both inspirational and fun!
Rock the CASA was GREAT! Playing for a sold out house filled with people who wanted to support under-served kids, and helping Dan in raising money for the Rock The CASA cause. We'd do it again!
Rock the CASA was an absolute blast— a wonderfully enthusiastic audience and a terrific event for a great cause. Dan and his entire team made sure everything went very smoothly and that it was a special evening for everyone involved. Rock the CASA helps children in need and I was delighted to be a part of such an important and fun night!
Rock The CASA helps kids and we get to have a great time doing it! Friends of Camp Concord, CASA, and Big Brothers Big Sisters are causes I care deeply about.
Dan sure knows how to throw a party and make a difference in the world. Dan Rocks!
ROCK the CASA was a special evening and I was so happy to be able to support such a great cause. This is about our future and we have to help our kids, because we can!
Rock the CASA was a blast! Dan and his team put on a first class event. A great evening and a great charity to help underserved kids in need and I was delighted to be a part of it.
I was delighted to headline Rock the CASA! 2021 was a strange year, as the pandemic prevented us from being together in the theater. But the live virtual concert was the next best thing and Dan and his team pulled off a great event and I was proud to help raise money to support kids in need.
It was a beautiful evening and I was so glad to support Dan and his Rock the CASA foundation during the pandemic. I performed as a guest artist at the event years ago and I was very happy to headline the virtual event in 2022 to help the children who need our love and kindness.
I want to thank Dan and Rock the CASA for having us. Everything was wonderful. We had a great time and we're excited to be able to help the kids.
If there were a CASA volunteer for every child in need, then the world would be a better place.
Signup for our email list to get special announcements and updates.
Click edit button to change this code.