An Evening of Music for
Court Appointed Special Advocates
&
Friends Of Camp Concord
Rock The CASA 2017 Featured Cheap Trick
Who will play RTC 2018?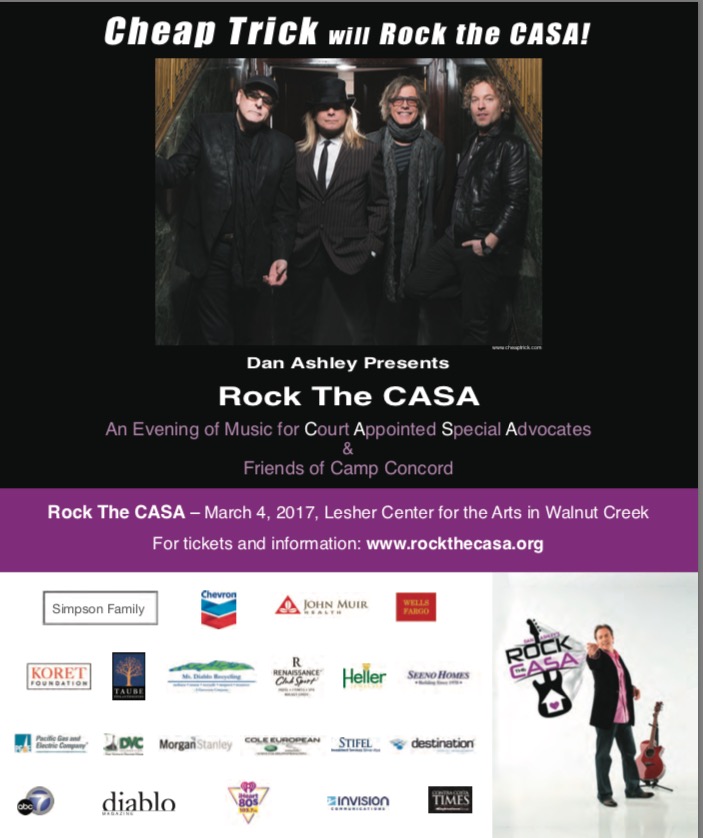 Rock the CASA was a blast—a wonderful evening for a great cause. I was delighted to headline Dan's event in 2015 and so happy to have helped raise money and awareness for a lot of kids who really need our help. We had an amazing show with people who love music, but love to help children even more!
Our experience with Dan Ashley and the Rock the CASA crew was first class from beginning to end. As the top rated news anchor in the Bay Area, Dan is in a perfect position to promote the event, and our band as well. He gets in the trenches and puts a personal touch on the whole event. Lending a helping hand to at risk young people is a cause which we are proud to support, and Dan made the entire experience both inspirational and fun!
Rock The CASA helps kids and we get to have a great time doing it! Friends of Camp Concord and CASA are two causes I care deeply about.
Upcoming Events
03/04 | USA, WALNUT, CALIFORNIA
ROCK THE CASA 2017 WITH CHEAP TRICK
FEATURED POST
Get Your Tickets Now!
Tickets for Rock The CASA 2017 have been available for a couple weeks now and they are going fast!
If there were a CASA volunteer for every child in need, then the world would be a better place.
Signup for our email list to get special announcements and updates.